The World in a Phrase
A Brief History of the Aphorism
The World in a Phrase is a whimsical, humorous tour through the history of this remarkable literary form and its extraordinary practitioners. The book chronicles the varied, often idiosyncratic backgrounds of the world's key thinkers and shows, as eighteenth-century aphorist Vauvenargues puts it, just how much "the maxims of men reveal their hearts".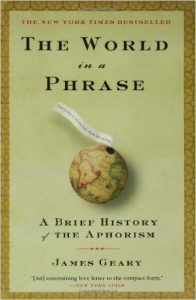 Reviews
"Geary fell in love with aphorisms when, at 8, his eye wandered to the Quotable Quotes section of Reader's Digest ... His attraction turned into a lifetime obsession, which he indulges to the fullest in 'The World in a Phrase', his entertaining love letter to the compact form."
– New York Times
"Geary serves up old favorites: Montaigne, La Rochefoucauld, Benjamin Franklin, Mark Twain, Ambrose Bierce. But he has also rustled up phrase-makers who are undeservedly forgotten."
– Washington Post
"This is a real treasure house. I intend to raid it relentlessly."
– John Humphrys
"It is impossible not to be swept along with Geary's enthusiasm. He has illuminated some poignant observations of the significance of introspection."
– The Times Literary Supplement
"What a pleasant, personal, thoughtful little book ... Geary's account is full of wonderful aphorisms .... Delightful."
– Booklist
"Probably the definitive work on aphorisms, a love letter-cum-memoir disguised as a reference book ... fellow fanatics will be delighted."
– Publishers Weekly
"Might become a Christmas bestseller another Eats, Shoots and Leaves perhaps?"
– The Bookseller
"Geary's book is a short and enlightening introduction to this short and enlightening literary form."
– The Charleston Post and Courier
"A delight ... offers extraordinary phrases that any lover of the prickly thought and the graceful sentence can savor."
– New York Sun
Geary's "enthusiasm for his subject shines through this delightful little book ... An insightful journey through the world of philosophy, offering up sayings from a captivating collection of prophets, thinkers and poets."
– The Sunday Express
"Geary's fascinating book takes us on a journey through the pithy sayings of some of the world's most profound and amusing thinkers and wits, [providing] entertaining and informative commentary on figures ranging from Confucius to Dr. Seuss."
– What's On In London
"A fetching dictionary of quotations."
– Scotland Sunday Herald
"Whimsical, humorous and a great book to leave beside the toilet."
– The Daily Ireland
Buy
In Italian:
In Spanish:
In Brazilian Portuguese:
In Korean:
---
Other Languages
---
Italian - la Vita in una Frase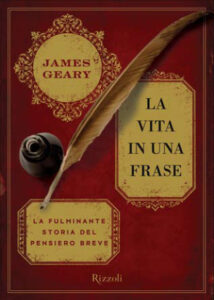 ---
Spanish - El mundo en una frase
---
Brazilian Portuguese
O Mundo em uma Frase
---
Korean - 인생의 급소를 찌르다
---
Great Britain
The World in a Phrase in Britain is out of print, but was known as We Are What We Think: A Journey Through the Wisest and Wittiest Sayings in the World.