I Is an Other
The Secret Life of Metaphor and
How It Shapes the Way We See the World
New York Times bestselling author James Geary offers a fascinating look at metaphors and their influence in every aspect of our lives, from ordinary conversation and commercial messaging to news reports and political speeches.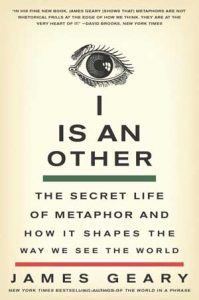 Reviews
"I love to read fascinating books. I also like to write songs and even poetry. This book is very thought provoking and highlights how we describe ideas, feelings, thoughts, emotions and concepts through the use of metaphors."
– Diana Ross, Singer, Actress, Record Producer
"In his fine new book, James Geary [shows that] metaphors are not rhetorical frills at the edge of how we think. They are at the very heart of it."
– David Brooks, the New York Times
Geary "succeeds in making the case that metaphor is the meat of language and not a sauce."
– The Wall Street Journal
"Smart fun for anyone fascinated by the play of language ... Geary traces the history of [metaphor] from Aristotle to Elvis."
– Yvonne Zipp, Washington Post
"Think of Geary ... as the bridge between the burgeoning field of metaphor studies and the man and woman in the street."
– Carlin Romano, The Chronicle of Higher Education
"Enchanting ... Geary writes with clarity and power on how ... metaphors are an aid to understanding."
Amol Rajan, The Independent on Sunday
"The author ... manages to weave together a fascinating amount of information ...I Is an Other really shines when it focuses on the simple yet profound You'll never look at a metaphor the same way again metaphorically speaking."
– New York Journal of Books
"Most effective are Geary's demonstrations of the disturbingly powerful role of metaphor in politics and advertising, as well as the concluding chapter about metaphor in psychotherapy."
– Steven Poole, The Guardian
"Geary writes a succinct, easily readable yet intellectually provoking work ... After reading any chapter of I is an Other, TV, books, music, conversation all take on a new life as you hear and see metaphor being put to use."
– John Ottinger III, Grasping for the Wind
"The scope of I is an Other is astounding ... Still, Geary manages to put everything in comprehensible packages primarily through metaphor, thereby proving the basic premise of the book ... The idea that metaphor is so much more than language was positively revelatory"
– Jen Karsbaek, Devourer of Books
"For James Geary, metaphor is 'not merely a matter of language alone but of thought itself.' He's made an impressive case for that proposition, prompting us to reflect on its importance in our own lives and in the world around us."
– Harvey Freedenberg, Shelf Awareness
Geary "knows how to distill specialized research [showing that] humans are astonishingly susceptible to figurative language and suggestive imagery."
– Meredith Blake, The A.V. Club
After reading the book, "you'll feel like you have at least a master's in metaphor and ... a much greater appreciation for the benefits and drawbacks of this cognitive tool."
– Michael van Baker, The SunBreak
"I is an Other compels multiple reads and rewards them with greater understanding of how indivisible our reality is from the language we use to describe it."
– Emily DePrang, Texas Observer
"A delightful and extremely readable essay."
– Patrick Hayes, spiked
"An illuminating study of metaphor in all its guises ... Required reading for anyone with even a passing interest in language."
– Wayne Gooderham, Time Out London
"Even the most up-to-date metaphorician will find new insights in this book ... a well-researched guide to what is known about metaphor."
– Bertie Kaal, Metaphor and Symbol
"A delightful examination ... Voters, consumers, and investors interested in knowing how their decisions may be influenced by well-planned metaphors will be fascinated by Geary's adept explication of the metaphor's role in defining perceptions."
– Publishers Weekly, starred review
"Sherlock Holmes could glance at a bowler hat and tell that its owner's wife had ceased to love him. In this brilliant book, James Geary is no less astonishing, as he deciphers the subtle implications embedded in advertising slogans, familiar slang, and government double-talk. After all, human beings don't just use language; language uses us. Whether a man refers to his wife as 'the light of his life' or his 'old ball and chain' says a mouthful about their marriage. Linguistic theory, brain research, Asperger's syndrome, childhood education Geary covers all these with a crack reporter's eye for the humanizing detail and an easy-going essayist's light touch. You'll learn an immense amount about metaphor from I is an Other,  but you'll also have more fun than a barrel of monkeys or a ride on a Ferris wheel or a trip to the moon on gossamer wings."
– Michael Dirda, Pulitzer Prize-winning critic and author of Book by Book and Classics for Pleasure
"This book is a prism, refracting the white light of language into a kaleidoscopic celebration of its images and etymologies."
– Ben Schott, author of Schott's Original Miscellany, Schott's Food Drink Miscellany, Schott's Sporting, Gaming, Idling Miscellany and Schott's Almanacs
"There are books that are in themselves a whole library of wit and wisdom: James Geary's I Is an Other is one of them. This is a distillation of distillations, a core collection of core pronouncements, the crème de la crème de la crème."
– Alberto Manguel, author of The Library at Night and A History of Reading
"A fascinating excursion to the land of metaphor, with many delightful side trips selected by a knowledgeable and entertaining tour guide."
– Dr. Mardy Grothe, author of I Never Metaphor I Didn't Like.
"This book is for everyone interested in the subtle operations of language and thought. James Geary brings into play an astonishing range of thinking on the matter literary, commercial, scientific. His examples and anecdotes are compelling. In all, he's a marvelous teacher, with his own unique gifts of expression. I is an Other is one of those 'must-read' books for this year, for any year. It deserves a wide audience, and it will find one."
– Jay Parini, Professor of English and Creative Writing, Middlebury College and author of Promised Land: Thirteen Books that Changed America
"Geary vividly shows the poetry, the science, and the power of metaphor in every aspect of our lives. From anthropology to behavioral economics to social psychology to cognitive psychology to neuroscience, he gets the science right. A first-rate achievement."
– Sam Glucksberg, Professor of Psychology, Princeton University
"This is perhaps the very best book on metaphor ever written!"
– Raymond W. Gibbs, Jr., professor of psychology, University of California, Santa Cruz, and author ofThe Poetics of Mind: Figurative Thought, Language, and Understanding
"Metaphors are not just for poets anymore. As Geary's wonderful book shows, metaphors are a major way we communicate with each other and even a major way your own body communicates with your brain! Geary shows us that once you look for them, metaphors are everywhere, like water to a fish, which might explain why we have taken them for granted for so long and therefore missed their important clues about the basic architecture of the mind."
– John A. Bargh, Professor of Psychology and Cognitive Science, Yale University
"Metaphor isn't just a fancy turn of speech. It shapes our thoughts and feelings, reaches out to grasp new experience, and even binds our five disparate senses. James Geary's fascinating and utterly readable I is an Other brings the news on metaphor from literature and economics, from neuroscience and politics, illuminating topics from consumer behavior to autism spectrum disorders to the evolution of language. As a writer, as a teacher, and as someone just plain fascinated by how our minds work, I've been waiting years for exactly this book."
– James Richardson, professor of English and creative writing, Princeton University, and author of National Book Award finalist By the Numbers: Poems and Aphorisms
Buy
In Chinese:
In Korean:
---