Wit's End
What Wit is, How it Works, and Why We Need It
Wit is often thought of as simply being funny. But wit is more than just having a knack for snappy comebacks. There is the serendipitous wit of scientists, the crafty wit of inventors, the optical wit of artists, the improvisational wit of musicians, and the metaphysical wit of philosophers. Wit is the quick, instinctive intelligence that allows us to think, say or do the right thing at the right time in the right place.
James Geary explores every facet of wittiness, bringing the subject to life by writing each chapter in a style that exemplifies a different kind of wit. The chapter on witty verbal repartee is written as a dramatic dialogue; the chapter on the neuroscience of wit is written as a scientific paper; the chapter on the spirituality of wit is written as a sermon. There are also sections written in jive, rap and the heroic couplets of Alexander Pope.
Wit's End shows how wit is a state of mind as well as a sense of humor and why wit and wisdom are really the same thing.
Read an excerpt on puns from The Paris Review.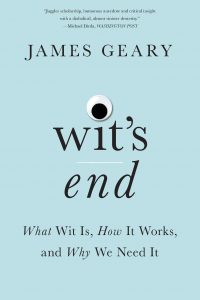 Photographs by Maciek Nabrdalik
Reviews
Wit's End juggles scholarship, humorous anecdote and critical insight with a diabolical, almost sinister dexterity. No shrinking violet, Geary fully intends to strut his stuff, to glitter and beguile, and he does so with remarkable ingenuity and chutzpah ... As the playwright Sacha Guitry so shrewdly observed, "you can pretend to be serious, but you can't pretend to be witty." Happily, Geary manages to be both.
– Michael Dirda, Washington Post
Geary is a keen storyteller, promiscuous with quotes and figures. One could do worse at a cocktail party than simply opening his book at random and reading aloud.
– Katy Waldman, The New Yorker
Mr. Geary writes not just playfully but also with panache ... Crucially, instead of analyzing wit to death, Mr. Geary chooses to embody it ... [His] chief success is in conveying the power of wit to refresh the mind.
– Henry Hitchings, The Wall Street Journal
With humour and verve and by the variety of his style, Geary shows wit to be multifaceted, subtle, ambiguous and akin to wisdom.
– Brian Maye, The Irish Times
An entertaining exploration of how intellectual dexterity manifests itself in both verbal and visual form ... Geary is undaunted by the risk anyone writing about the subject of being funny takes: spoiling the joke by explaining it. Refreshingly, he shows here that he's fully equal to the task, enhancing our appreciation of how true wit can both amuse and enlighten.
– Harvey Freedenberg, Shelf Awareness
An exhilarating romp, entertaining and enlightening… Readers roaring with laughter at outrageous puns one moment find themselves carefully assessing psychological studies the next… Geary's own puckish style - mischievous and unpredictable - itself sparkles with wit.
– Booklist, starred review
Geary takes an unusual approach to writing about wit. The chapter on verbal repartee is written as a dramatic dialogue. For the neuroscience of wit, he delivers a scientific paper. A quirky approach for a quirky topic.
– New & Noteworthy, The New York Times
A playful book that celebrates all forms of wit. To add to the fun, [Geary] writes each chapter in a style that mimics the topic under discussion [and] has great fun with the many different styles ... "To see clearly, look askance," Geary advises. He heeds his own advice to entertaining effect.
– Kirkus Reviews
Audiobook review: James Geary's essays on wit ... give narrators David De Vries, JD Jackson, and Janet Metzger vocal workouts ... Geary is providing informative observations on wit [that] could help listeners craft better puns as it reveals the secrets of silliness.
– AudioFile Magazine
"I have been reading Wit's End in juxtaposition to rereading and again writing about James Joyce's Ulysses. Geary prompts me to think that Joyce's title could have been No End to Wit. Goethe wrote an essay called No End to Shakespeare. There seems to be no end to James Geary's versatility."
– Harold Bloom
"Wit's End is delicious. James Geary has managed to produce a witty book about wit that steers an elegant path between waggishness and wisdom."
– Stephen Fry, comedian, actor, and writer
If you want to learn about the evolution and nuance and complexity of the English language, read this book. If you want to be joyously surprised to learn things you didn't know, read this book. If you want evidence that a skilled, committed writer can inhabit different voices from various backgrounds - and do it with the kind of excellence and sensitivity that must be required of anyone attempting such an endeavor - read this book.
– Issac Bailey, author of My Brother Moochie: Regaining Dignity in the Face of Crime, Poverty, and Racism in the American South
"James Geary deftly accomplishes an impossible task: explaining why things are funny while simultaneously making you laugh. Wit's End is a delight! It's entertaining, it's informative, and it's a breeze to read. I'm still smiling long after I finished reading it."
– Amy Webb, quantitative futurist, founder of the Future Today Institute, and author of The Signals Are Talking and Data, A Love Story
"Whoever was the foremost authority on this topic is now second most."
– Bob Mankoff, cartoon and humor editor for Esquire and former New Yorker cartoon editor
"Comedy is famously impossible to describe without destroying it, so James Geary — in this entertaining and informative and funny book — makes a very smart and effective move: he does the police in different voices. He embodies the many different forms that wit takes, from poems to jokes to jive to rap. In a time of constant, unintentional humor, here is a purposeful and valuable reminder that sometimes it's on purpose and sometimes it's very nearly life-saving."
– David Shields, bestselling author of Reality Hunger and The Thing About Life Is One Day You'll Be Dead
"James Geary has produced a rich cornucopia of wit and its origins in the wittiest literary way possible. A delight."
– Julia Hobsbawm, founder Editorial Intelligence, the Names not Numbers ideas conference, the UK Comment Awards, and author of Fully Connected: Surviving and Thriving in an Age of Overload
"Playful, fiercely intelligent, silly, funny and immensely informative - [Wit's End] makes for a breathless read that leaves you feeling enormously enriched. The reinvention from chapter to chapter is a masterstroke and keeps the subject matter joyously buoyant."
– Reece Shearsmith, actor and writer, The League of Gentlemen, Psychoville, and Inside No. 9
"If you've ever spent hours overanalyzing your favorite standup special or sitcom episode, this is the kind of insightful, carefully reasoned deep dive you'll love."
– David Litt, New York Times bestselling author of Thanks, Obama: My Hopey Changey White House Years
Music: "Shotgun House Rag" by Dan Burley