Geary's Guide to the
World's Great Aphorists
Geary's Guide is the result of a lifetime's obsession with aphorisms and a year's death-defying research in the British Library. More than 350 authors from around the world, some of whom appear here in English for the first time, are brought together in this lively and thought-provoking compendium.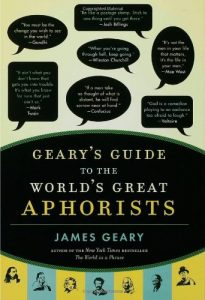 Reviews
"A wonderful breviary of wisdom, insight and cynicism, and one that will immediately find a place at many bedsides ... There are pleasures and surprises galore."
– Michael Dirda, Washington Post
"One can hardly imagine the riches contained in this anthology."
– Jay Parini, The Chronicle of Higher Education
"An agreeable thing to have in your lap."
– Dwight Garner, New York Times Paper Cut
"Fun and indispensable ... All writers should own this book."
– Ken Wells, Portfolio
A "wonderful collection."
– Rob Kyff in Mark Twain's local newspaper The Hartford Courant
"The virtue of Mr. Geary's guide isn't the familiar faces, but rather the legion of unknowns: Les Coleman ('Glass is silent until broken'), Yahia Lababidi ('Impulses we attempt to strangle only develop stronger muscles'), Antonio Porchia ('He who makes a paradise of his bread makes a hell of his hunger')."
– Adam Begley, The New York Observer
"A masterful compilation from a man adept at taking the pith."
– Ben Schott, author of Schott's Original Miscellany, Schott's Food Drink Miscellany, Schott's Sporting, Gaming, Idling Miscellany and Schott's Almanacs
"Geary's Guide to the World's Great Aphorists is a rich, well-edited compendium, which is at once a feast, a frolic, a thought-kit and a treasure trove. A book to relish and to keep close."
– John Lahr, The New Yorker
"A model of clarity, simplicity, humour, wisdom, unpretentiousness and almost fanatical diligence. The information is so richly distilled, the learning worn so lightly and the expression so elegant that you can open it anywhere and be instantly delighted."
– John Lloyd, British TV comedy producer of programs such as Not the Nine O'Clock News, Spitting Image, Blackadder and QI.
A Way with Words
KPBS Radio, San Diego Oct. 23, 2007
Dangerous Books You Should Read
Grant Barrett explains why leafing through such books can be rewarding – but hazardous to your time management.
"A fun book that is too quirky to serve as a reference."
– Library Journal